HWg-WLD is a water leak detector connected to the Ethernet. The sensing cable detects as little as a few drops of a liquid, and can be also used to detect condensation. Whenever a liquid is detected, the device sends an e-mail or a SNMP Trap, or uses a central SMS gateway HWg-SMS-GW3 to send a text message.
By providing an early detection and warning, HWg-WLD can prevent damages and avoid the associated costs.
A built-in web server is used for configuring. The device can be monitored remotely over the internet. It works with HWg-PDMS and HWg-Trigger.
Features:
2 – 85 m (6.5 – 280 ft) long sensing cable can be extended using sensing as well as non sensing segments.
The sensing cable can be freely bent, twisted or even knotted, pressed or slightly pinched without raising a false alarm.
M2M communication protocols SNMP, XML and Box-2-Box allow integration into more complex monitoring systems.
Connected via LAN. Configuration via built-in web server.
The detection cable monitors even the smallest volumes of electrically conductive liquids. After being flooded with clean water it can be dried and reused.
Detected liquid leak as well as the sensing cable disconnecion sends an alert by e-mail, SMS, SNMP Trap, or activates a remote relay at a Poseidon2 of Damocles2 within the same LAN.
For Ring or SMS alarm use the HWg-Trigger software (external GSM modem required), or a HWg-SMS-GW3 gateway in the same LAN.
PoE (Power over Ethernet) version available.
With the HWg-PDMS software, logged data can be exported to MS Excel.
Compatible with a range of third party SW. Examples for programmers on using the product are available in the HWg-SDK (Borland C++, MS Visual, VB, C#, PHP, JAVA and more).
Applications and usage:
Detection of water leaking from pipes (cable runs along the pipes)
Detection cable laid along the walls
Under raised floors
Above suspended ceilings
Detection of water leaks in drip trays
Detection of water leaks under A/C outlets

Water sensing cable
The sensing cable detects even the smallest volume of water, ethylene glycol, or other conductive liquid anywhere on the total length of the cable.
The sensing cable is terminated with connectors.
The following can be combined:

Water sensing cable WLD - 2m
Water sensing cable WLD - 10m
Water sensing cable WLD - 50m
Prolong cable - 5m

The sensing part of the cable can be up to 85m (280ft) long.
The cable can be extended anywhere (even between sensing segments) with a 2-wire cable (max 100m – 330ft).
The WLD water detection cable is reusable (needs to be dried)
Box-2-Box mode
HWg-WLD can directly control relay outputs over the network. No additional software is necessary.
Supports any Poseidon or Damocles unit
State is transferred upon changes as well as periodically (default period is 30s). Uses XML over http.
The output must be in the "Manual" mode (no local condition for activating the output)
The user configures the remote device IP & port and the remote output ID (ID 151 = Output 1, 154 = Output 4)
If the relay is write-protected with a password, the user sets the password for controlling the relay
Output control can be tested with the TEST button
2D area flood detection requires the installation of a detection cable in a place where water will likely be located after leakages from various sources of flooding (cracked water pipes, glycol from the cooling system, wastewater).
HW group offers several products that provide ideal solutions for flood and water leak detection.
See the table below and discover the best solution for your situation:
| | | | | |
| --- | --- | --- | --- | --- |
| | HWg-WLD | WLD2 | SD-WLD | WLD-Relay |
| Detection zones | 1 | 4 | 1 | 1 |
| Max length of WLD sensing detection cable | 85m | 85m | 85m | 85m |
| Max length of WLD extension cable | 100m | 100m | 100m | 100m |
| LAN (RJ45) | | | | |
| WiFi | | | | |
| Connection to the SensDesk Portal | | | | |
| Alert for broken LAN / WiFi connection | | SensDesk / HWg-Trigger | SensDesk | |
| 1Wire-UNI output (RJ11) | | | | |
| Relay output | | | | |
| Flood / torn cable indication | | | | Poseidon2 |
| It works with remote relay | | Poseidon2 / Damocles | SensDesk | |
Recommended products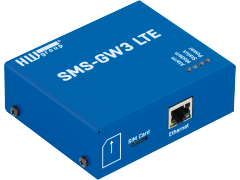 SMS-GW3 LTE is a LAN gateway for sending alarm SMS from HW group devices.
Prolong non-sensitive cable 5m for WLD type A. Can be extended to up to 100m in total.
WLD sensing cable type A. Water is detected along the entire length of the WLD sensing cable.