STE2 r2 can connect up to 5 sensors (5 sensor values) via 1-Wire and 1-Wire UNI and up to 2 detectors via DI (Digital Inputs) for dry contacts.
A built-in web server is used for configuring. The device can be monitored remotely over the internet using the free SensDesk portal in combination with the SensDesk Mobile application for iOS and Android. It is supplied with free HWg-PDMS software to create graphs and export data to MS Excel.
STE2 r2 is a device with SNMP support designated for measuring temperature and humidity from external sensors, with the option of connecting to the internet via Ethernet or WiFi. In case the permitted range of values is exceeded, STE2 r2 sends an alarm via e-mail and has an Alarms tab, where you can define up to 3 sets of targets and assign them to individual sensors) via the SensDesk portal or via SMS using standalone HWg-SMS-GW3 gateway in the same LAN.
Features:
Up to 5 sensors (1-Wire + 1-Wire UNI) and 2 DI (Digital Inputs) for Detectors
Alarm alerts by e-mail and text messages (SMS), STE2 r2 includes the option to dial the target number (requires external gateway)
M2M communication protocols: SNMP, XML, WWW interface with HTTP(s)
Connected via LAN and WiFi (built-in antenna) - simultaneous connection possible.
NMS connectivity (SNMP MIB); simple installation; supports DHCP; supports TLS authentication (Gmail).
A sensor or DI alarm sends an alert by e-mail, SMS or Ring.For Ring or SMS alarm use the HWg-SMS-GW3 gateway in the same LAN.
SensDesk portal compatible device (IoT projects)
Powered from included external 5V power adaptor or PoE.
With the enclosed HWg-PDMS software, logged data can be exported to MS Excel.
Compatible with a range of third party SW. Examples for programmers on using the product are available in the HWg-SDK (Borland C++, MS Visual, VB, C#, PHP, JAVA and more).
Applications and usage:
Air conditioning failure detection
Monitoring of refrigerator or freezers
Drug storage + reports (by SensDesk)
Food storage
Remote industrial environment monitoring
Temperature and humidity monitoring
CO2 monitoring
Water Flood detection (spot detection / Water Leak Detection sensing cable)
Electrical current monitoring
Follow everything online
Connect the STE2 r2 thermometer to the network via a LAN or by using the built-in WiFi antenna.
A universal power adaptor is included in the STE2 r2 package. The device can be also powered from the PoE.
The device has a built-in WEB server, you will need only a standard web browser. HTTPS is also supported.
Connect external sensors + detectors and define Alerts. One temperature sensor is included.
The device will alert you by email when the sensor value exceeds "Safe range" or the DI input is closed.
Email can be delayed or sent periodically. STE2 r2 supports also TLS so the Gmail SMTP servers can be used.
Use external SMS- GW3 for SMS alerts.

SensDesk portal with STE2 together is a remote monitoring system. It can store your historical data, show graphs & alerts you. See this application note which describes how to create user account and add device to the SensDesk portal.

SensDesk portal is simple for configuration and centra device management
SensDesk portal will alert you even for STE2 devices disconnected from the internet.
SensDesk portal is able to send SMS alerts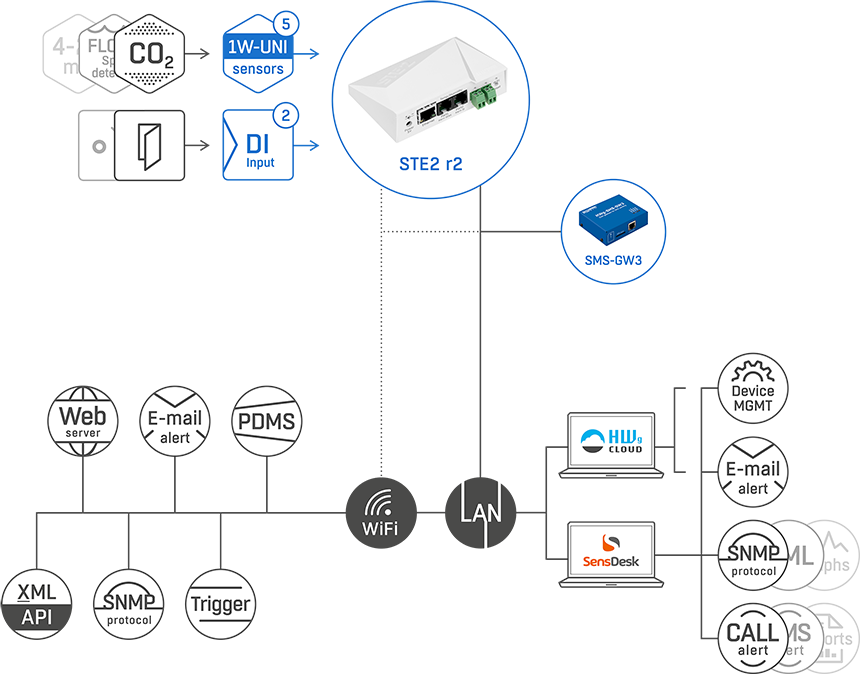 Choose any Sensor / Detector you need
Temperature sensors (Indoor / Outdoor / Cryo)
Calibrated temperature sensors
Relative Humidity sensors (Indoor / Outdoor)
AC Voltage (0-230V) sensor
4-20 mA sensors (converter) for industrial probes
Water flood sensor (spot detection)
WLD (Water Leak Detection) by external sensing cable
Airflow detector
Door contact detector
PIR motion detector
Gas leak detector
Power presence (110/230V) detector
Vibration detector
Up to 5 external sensors (RJ11) + 2 DI detectors can be connected to the STE2 r2 device.
Sensor values in graphs & reports
HWg-PDMS
windows based software allowing you to transfer the measured values to graph form and to export data to
MS Excel
. You can easily create comprehensible reports with graphical representations of temperature in one or a number of locations.
SensDesk system showing sensor value graphs, alerts you when the STE2 device is not working or any sensor is out of defined limits. For an example of working with charts in SensDesk, see the application note.
3rd party software or applications can use SNMP or XML Open API protocols.